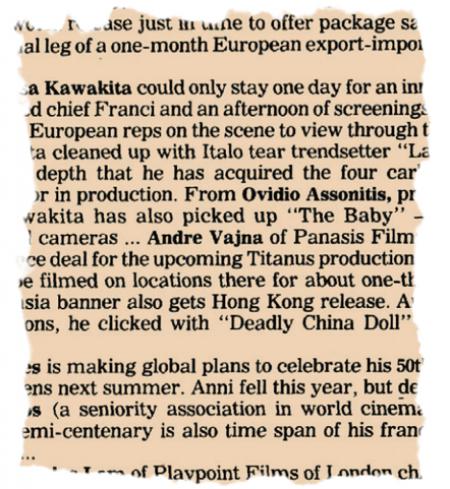 First time in Variety
---
Variety first noted Andy Vajna's work in Asia during Mifed sales market in Milan in 1974, 43 years ago. On this occasion, he was interviewed by Steven Gaydos, Executive Editor of Variety and shared stories about his early days in the entertainment industry.
Vajna attended Mifed in 1974 as a buyer after he decided to quit the wig business and it was time to go back to his first love, the movies, and bought two cinemas in Hong Kong. He remembered his theaters screened some big films, like "Papillon" with Steve McQueen and the Charles Bronson film "Chino" at that time.
"Thanks to Bruce Lee and other kung-fu stars, Chinese films had become a fad. My first Hong Kong production Deadly China Doll starred Angela Mao, who was already a star. So it fit in with the kung-fu craze and did very well" said Andy Vajna about his first movie in Variety. 
"I was never the artist. I was always the audience", emphasized Vajna, who said he didn't like being on the set, but loved post-production. The full interview can be read on Variety.
January, 2018